About Headline Shirts:
Headline Shirts was founded on San Jose Ave. in San Francisco in 2005. The company grew tremendously and after three years, in 2008, they moved to a busy new headquarters, still in San Francisco. The shirts have remained consistently awesome, made with eco-friendly ink and hand sewn in San Francisco. Not to mention they are very funny!
Headline shirts was kind enough to let me pick out a tee for my 3 year old, Chase. We were given a code and I ordered it online, just like a customer would. The website layout was easy to order from. Chase chose the yellow tee with the flying squirrel. We ordered a 4T. The shipping was amazingly fast!
They ship within 24 hours after you place the order!
When we received the shirt Chase was very eager to put it on but we had to get some good shots of it first.
Here it is right out of the bag with a sticker
Check out the bag it came in!
Two thumbs up from me! :)
I love the tag. Notice, along with giving you washing instructions, it reminds you to remove your shirt prior to washing and to wear pants with your shirt. :) Although Chase didn't understand, it gave me a good laugh.
This shirt is made with a 60-40 cotton-poly blend.
It is soft, light and breathable.
It washes and dries nicely. At first it seemed a bit long but once I washed it, it shortened up. It is still somewhat long, which I like. One of my pet peeves with shirts is too short and too wide. This shirt is neither.
It is nice a slim fitting.
Mommy- "What do you think of your new shirt?"
Chase- "It looks cool!"
Along with the cute squirrel on the front, I love how soft the fabric is. After several washes the color is still nice and vibrant. I love that all of their shirts are made with eco-friendly ink and material and they are hand sewn in the US.
I wouldn't change anything about the shirt but I would love to see baby sizes!
This is an awesome, eco-friendly and funny shirt. It is holding up wonderfully. I have been able to remove stains, like pasta sauce, without a problem. It is one of the first shirts I reach for in Chase's dresser. I would love one for myself!
"Thanks for my new favorite shirt!"
Here are some other great kids designs I like.
Check out
Headline Shirts
to get your own funny tee. They carry sizes 2T, 4T, 6, 8 and 10 for kids and they even have
adult shirts
. You can get a shirt from $20-$24 with $5 flat rate shipping. They also carry wallets, bags, sunglasses and belt buckles.
Come back May 22-June 5 for the Shake, Rattle and Roll Event and enter for a chance to win a prize package including a shirt of your choice from Headline Shirts! Open to the US & CAN.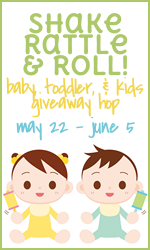 *Disclaimer* I received one or more of the products or services mentioned above for free to review on my blog. I only recommend products or services I use personally and believe will be good for my readers. I am disclosing this in accordance with the Federal Trade Commission's 16 CFR, Part 255: "Guides Concerning the Use of Endorsements and Testimonials in Advertising." The opinions expressed in this post are entirely my own. Your experience with the product may differ from mine.