About Happy Yiayia:
Kimberly, a homeschooling mother to five kids, has enjoyed tie dying for herself and her family for quite some time. Just recently, she and her mother Becky (who does the sewing) joined forces to bring you
Happy Yiayia
. Kimberly has done what most of us can only dream about, create a business out of a hobby. She enjoys the anticipation and excitement from hand dying each piece and waiting to see how it turns out.
Then she is able to share it with the world.
She feels it is important that her children see her take time for herself and do something she enjoys and I couldn't agree more! When Kimberly isn't working or teaching her children she is spending time outside hiking, swimming, camping or just hanging out with friends and family.
The problem is most of them are plastic!
Not only is plastic hazardous to your health, it is bad for the environment. It takes real effort to avoid it. Plastic is everywhere!
Read more about the dangers of plastic.
If you try hard enough, you can find some great alternatives.
I am delighted to tell you about Happy Yiayia and what they have to offer.
You can have fun, colorful and imaginative toys without the chemicals!
I'm all for that. :)
My boys and I have had the opportunity to play with some fun stuff. Kimberly from Happy Yiayia was kind enough to send us some wooden rainbow stacking blocks and a tie dye play silk.
The wood stacking blocks are made from pine and the whole rainbow measures about 9-1/2 inches wide, 5-3/4 inches tall. They are hand painted with safe,
non-toxic dyes
and sealed with beeswax and olive oil. They are great for all ages. Both my 5 month old and 3 year old love them. They are safe if they find there way into my teething 5 month olds' mouth.
They are nice and soft and the finish is beautiful. It is hard to capture their full beauty in the pictures. We have had a lot of fun playing with them.
The play silk is wonderful.
It is a unique piece of art!
It is made from real silk. The edges are rolled up and stitched. This one is about45" x 44". It is so soft.
GET YOUR OWN!
Happy Yiayia carries a great selection of tie-dye items! Visit
Happy Yiayia
on Etsy to get your own. Earth Faerie Momma readers can use the coupon code
THANKYOU
for 10% off (expires July 1st).
Come back May 22-June 5 for the Shake, Rattle and Roll Event and enter for a chance to win a prize package including a $25 credit to Happy Yiayia! Open to the US & CAN.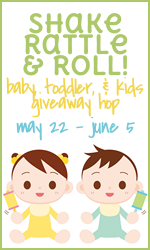 *Disclaimer* I received one or more of the products or services mentioned above for free to review on my blog. I only recommend products or services I use personally and believe will be good for my readers. I am disclosing this in accordance with the Federal Trade Commission's 16 CFR, Part 255: "Guides Concerning the Use of Endorsements and Testimonials in Advertising." The opinions expressed in this post are entirely my own. Your experience with the product may differ from mine.