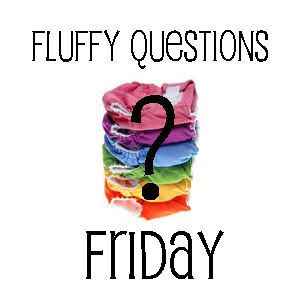 Welcome to the first week of Fluffy Questions Friday. I know how hard it is when you are just starting out with cloth diapers. Now that I have been using them for awhile and have been doing extensive research, I want to pass on my knowledge and make it easier for you! Every Friday I am going to answer your questions. If I don't know the answer I will find someone that does.
If you have a question you would like me to answer then submit it here.
ASK AWAY!
Q:
What is the best way to get started on cloth diapers? How many do you suggest to have for a stash? -Cat Ness (SD)
A:

The best way to get started with cloth diapers is to become familiar with each different type/style. Check out the post I wrote about it in my beginners guide to cloth diapers series. I go into detail about:
1. Pockets
2. All-In-Ones
3. All-In-Twos
4. Hybrids
5. Fitteds
6. Prefolds
7. Flats
8. Covers
9. Trainers
I suggest trying a few different types from different brands. Pockets and All-In-Ones are the easier to get the hang of. Although, I have started favoring fitteds and flats with covers! You never know what will work best for you and your baby.
As far as how many you will need, that will depend on what types of diapers and how often you plan to do laundry. I suggest doing laundry at least every other day, although you can go three if needed. That way the diapers wont be sitting around dirty for too long and you will also have smaller loads to wash (which will make it easier to get them clean). Since you want to change your babies diaper every 2-3 hours, I would suggest 24 or more changes. You don't want to run out of diapers while you are trying to wash them!
Q:
Do I need to rinse the poop off of the diapers before I wash them? -Anonymous
A:
When a baby is exclusively breast fed (the first 6 months) their poop is water soluble, so you can throw it all in the wash. This is very convenient because newborns poop almost every change! When your baby gets a bit older and starts on solids, those will need to be rinsed off. There are many options when the time comes. Babies poop doesn't become completely solid until they start eating food on a regular basis. My son now is 7 months old and his is still very muddy. He eats solid food only once a day. I use our shower head to rinse his diapers off into a bucket in the tub. Then flush it. I know it sounds unappealing but he only poops once or twice a day and it is convenient here at home. Here are some options for starting solids:
A diaper sprayer (connects to the potty)
Washable liners (fleece, silk, cotton flannel)
Disposable or flush-able liners
A scraper (scrape it right into the potty)
Dunk and flush (in the potty)
Or just rinse into a bucket like me :)
Cloth diapering changes as your baby grows so you will find what works best for you when the time comes.
I hope these questions and answers help! Please come back next week for more. Don't forget to sign up for my
newsletter
so you wont miss a post! You can also follow me on facebook, twitter and pinterest!