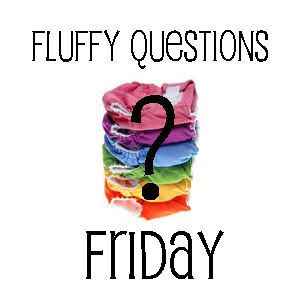 Welcome to Fluffy Questions Friday. I have two great questions here. Come learn more about cloth diapers. Sorry, this is late! Better late then never though. :)
If you have a question you would like me to answer then submit it here.
ASK AWAY!
Q:
What is better to buy, snaps or hook and loop? -Chelsea (IA)
A:

There are pros and cons to each of them. I go over them in detail on my post about the different types of closures. I prefer snaps for every day use but I like having a few velcro around for family. Some brands are easier to use than others. You would really need to try them to know if they are going to work for your and your baby. So try different styles, brands and closures! Keep in mind, once a baby starts grabbing at things they are able to take off velcro/ hook and loop diapers!
Q:
What is the best way to cloth diaper a newborn? -Melody (FL)
A:
In my opinion, prefolds and covers are the best to use. This method is the most cost effective. A newborn needs a diaper change every two hours or less,
with a poopy diaper almost every time!
That means you want at least 24 changes and you may still need to wash them once a day. Most newborns will grow out of the diapers in 1-2 months. Then they can move on to a one size diaper. If you don't mind spending a little more money at first here are your other options:
•Fitteds (needs cover)
•All-in-ones (AIO)
•Duo AIO (two sizes)
Thirsties Duo AIO are pretty unique. Although I didn't try one on a newborn the size 1 gets pretty small without being bulk and fits to 18lbs!
EcoPosh Fitted
Grovia AIO
These can cost you $13-$30 a piece brand new. So buying used could really help cut the cost! Also, keep in mind, they can be resold and you can get a decent amount of your money back.
Please come back next week for more. Don't forget to sign up for my
newsletter
so you wont miss a post! You can also follow me on facebook, twitter and pinterest!